2017年上半年设计信息学和工业4.0的主题报告
阅读:11466 发布于:2017-06-21 08:31
Design Seminar Announcement
Time: 9:30am-11:30am, 23rd June, 2017
Location: B203, School of Media & Design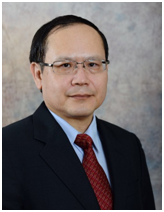 Speaker 1:
Chun-Hsien Chen
Biography:
Prof Chen, Director of the Design Stream at the School of Mechanical & Aerospace Engineering, Nanyang Technological University, Singapore, received his BS degree in Industrial Design from National Cheng Kung University, Taiwan, MS and Ph.D. degrees in Industrial Engineering from the University of Missouri-Columbia, USA. He has several years of product design & development experience in the industry. His teaching and research interests are in collaborative/human-centric/consumer-oriented product design and development, knowledge engineering, design sciences, engineering informatics and artificial intelligence in product/engineering design. He has more than 140 publications in these areas.
He has served as a technical reviewer for National Science and Technology Awards (Singapore), National Research Foundation of Korea, and a judge for Pin Up Design Awards (Korea), an advisory board member (Singapore representative) of ISPE (International Society for Productivity Enhancement) and various international conferences held in USA, Europe, China, Korea, Malaysia, Hong Kong and Taiwan. Prof Chen is Co-Editor-in-Chief of Advanced Engineering Informatics (ADVEI), a SCI journal published by Elsevier (UK). Besides ADVEI, he is an editorial board member of Recent Patents on Engineering, Heliyon, Journal of Kansei, and Ambient Intelligence and Ergonomics. He is/was a Shanghai Eastern Scholar (appointed by Shanghai Maritime University as an Eastern Chair Professor, 2011 – 2014), a Guest Professor of Tianjin University (since 2013), a Visiting Professor of National Cheng Kung University (2011), a Guest Professor of Shanghai Maritime University (since 2006), and Chaoyang University of Technology (2008 – 2010).
Title:
Design Informatics in Human-centric Product Conceptualization
Abstract:
Understanding and fulfilling each individual customer's requirements has been recognized as a pressing challenge for companies across industries. Apart from offering market-focused products, which corresponds to an average satisfaction of customer requirements, companies are pursuing a strategy of offering customer-focused products with a large degree of individuality. Customer requirement management thus becomes one of principal factors for product development to succeed in the marketplace. The recent wide-spread usage of the Internet by consumers for information exchanges has provided a means for product developing companies to elicit real-time consumer intelligence. To tap on the massive amount of information on the Internet, computational toolsets that can extract and analyze customer-related data will be necessary. In this regard, the future relevance of the research in design informatics has attracted academics with various backgrounds, mainly from the domains of computer science, artificial intelligence, cognitive science, product design and innovation, and consumer intelligence. With respect to a holistic view of design informatics in human-centric product conceptualization, key challenges and future research directions are identified.

Speaker 2:
Carman K.M. Lee
Biography:
Dr LEE Ka Man is currently an assistant professor in the Department of Industrial and Systems Engineering, The Hong Kong Polytechnic University, Hong Kong. She is the program leader of BSc(Hons) Enterprise Engineering with Management. She obtained her PhD and BEng degree from The Hong Kong Polytechnic University. She was awarded Bronze Award of 16th China National Invention Exhibition Award in 2006 and Outstanding Professional Service and Innovation Award, The Hong Kong Polytechnic University in 2006. Dr Lee has authored or co-authored more than 100 journal papers. Her current research areas include logistics information management, smart manufacturing, application of internet of things and data mining techniques.
Title:
Trend and Business Opportunity from Industry 4.0
Abstract:
Industry 4.0 is realized as the next industrial paradigm shift which emphases system integration and migration to become smart factories. The latest trend and opportunity includes (i) Cyber-Physical System that transforms production plant to an intelligent environment, (ii)Smart Factory which concentrates on investigating intelligent production systems and processes so as to achieve network-based distribution production facilities and (iii) Intelligent production that applies advanced technologies such as human-computer interaction, intelligent logistics management and 3D printing to the whole industrial production process. We explore the future research area including
i) Modelling physical human robot collaboration of collaborative task in production and service industry.
ii) Formulation of big data analytics approach for predictive maintenance
iii) Design and development of Industrial Internet of Things based sensor and communication device for asset management
iii) Exploration of Virtual Reality (VR), to Mixed Reality (MR) that provide a real and virtual world as a training environment and new product review
iv) Enhancement of rapid reverse engineering and non-destructive inspection and geometrical measurement