7th Global Communication Forum Held in Guiyang
阅读:11457 发布于:2016-07-29 23:34
The 7th Global Communication Forum, sponsored by Shanghai Jiao Tong University and other institutions, was successfully held in the Confucius Academy in Guiyang City, Guizhou Province on July 16-17th, the first time the forum was held in the western part of China. The choice of this location was for bridging West China with other areas both inside and outside China to carry out communication researches and education. It also embodied the forum's vision of deepening globalization-localization convergence, serving social progress and expanding brand effect as an academic platform.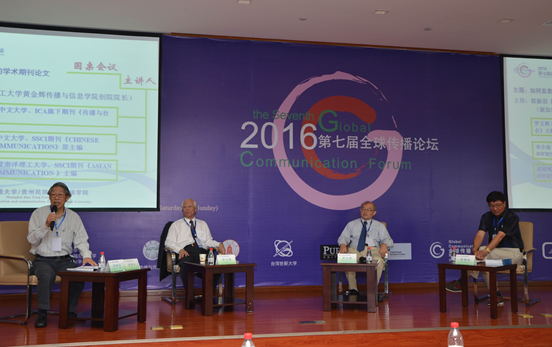 With the theme of "Cultural Identity and Regional Development in the Era of Global Networking and Big Data", this forum shed light on issues related with cultural identity and comprehensive development in society and communities. Communication researchers were given the opportunity to reflect on the relationship between the drastically changing media environment with cultural identity and regional development. The forum also became a platform for dialogues between scholars in the communication circle from around the world, bolstering global interaction and exchanges.
This conference was cosponsored by Shanghai Jiao Tong University, Guizhou Minzu University, Guizhou Communication Association, Yunnan University, Sichuan University, Shih Hsin University (Taiwan), Purdue University(the U.S.), Copenhagen Business School (Denmark) and International Communication Association. It welcomed over 120 experts from more than 40 communication education and research institutions covering places including the U.S., Singapore, Japan, Hong Kong, Macau, Taiwan and Mainland China, who engaged in heated discussions around the theme.
The opening ceremony was hosted by Yan Chunlong, Dean of School of Communication in Guizhou Minzu University. Representatives of the organizing institutions, including Tao Wenliang, president of Guizhou Minzu University, Chen Ming, Vice Director of the Cyberspace Affairs Office, Zhang Guoliang, Dean of the Global Communication Research Institute in SJTU, Shao Guosong, Vice Dean of the School of Media and Design in SJTU, Patrice, former ICA president, Chen Qinghe, Vice President of Shih Hsin University and Guo Jianbin, head of Communication and Ethnic Culture Research Institute in Yunnan University, all addressed the ceremony.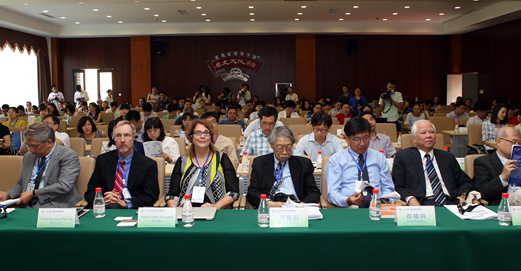 There were 10 keynote speakers from home and abroad, 9 workshops and one round-table conference, with cutting-edge topics including medium situation and cultural identity, medium ecology and social development, communication technology and medium evolution, digital gap and medium quality, medium presentation and communication effect, medium ethics and communication laws, medium's role and social responsibility, as well as publishing high quality papers on academic journals, which had theoretical meaning, application value and common interests.
Zhang Guoliang, founder of the forum and Dean of Global Communication Research Institute in SJTU, won a round of applauds with his humorous closing remarks:" We enjoyed good weather, beautiful scenery, spicy foods, generous reception, a wonderful forum, amazing friendship, cool discussions and abundant rewards these two days. Who knows where we will have our next reunion? It could be any place on this planet."
This forum attracted broad attention from all sectors of society, with its distinct characteristics and substantial achievements. It has been reported by various media outlets including Xinhua Net, People's Daily, China News, China Daily, China.com, Huaxia369.com, IFeng.com, CNWest.com, Huaxun.com, Sina.com, Netease, SOHU, Qianlong.com, Jfdaily.com, Eastday.com, Cankaoxiaoxi, Toutiao.com and Guizhou TV.
(Article provided by Report Team of the 7th Global Communication Forum)