SMC 2018 Dean's List Awards Ceremony
阅读:6832 发布于:2018-12-27 09:55
To close this 2018 on a high note, students and faculty members of the School of Media and Communication (SMC) gathered on December 26 to celebrate excellence, dedication, and friendship during the Dean's List Awards Ceremony. The pinnacle of this annual tradition is to extend one of the highest honors of the year to the most outstanding students of the International Graduate Programs in New Media Studies at Shanghai Jiao Tong University (SJTU).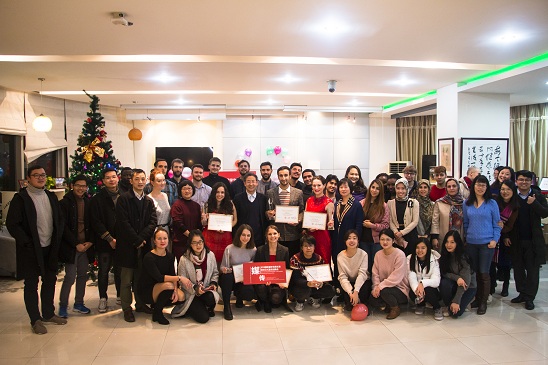 Twelve international students received a diploma and crystal trophy from the Dean of the Media and Communication School, Prof. Benqian Li, either for their outstanding academic achievements or their perseverant social service. For the first category, students need to be among the top 5 GPA scores (over 3.9) and are preferred to have published or presented their work in top academic journals and/or international conferences. For the latter, public service achievements; volunteering work at international events or in the school program's promotion; as well as contributions to the cultural promotion and communication of SJTU; and other extracurricular achievements, as important awards at university or national levels, are required from the winners.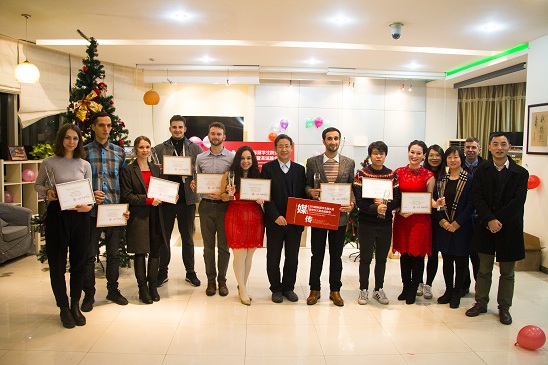 Dean's List Award Winners with SMC Dean and Faculty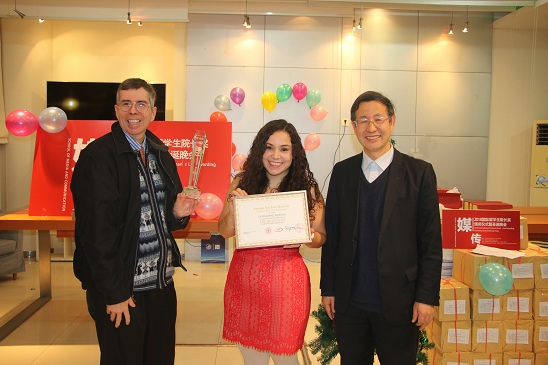 Laura Gomez Aurioles (middle), winner of Academic Achievement Award
with Prof.Michel Dupagne (left) and Prof. Benqian Li (right)

After the award ceremony, students from three generations, faculty members, and friends shared dinner and other refreshments, ending the event in warm conversations about their experiences and future plans in China and SJTU. In addition, as a symbol of intercultural unity, all students received a nice Christmas present from SMC. (Wrtten by Laura Gomez Aurioles, editted by Lutong Zhang)
List of Awarded Students:
Academic Achievement:
Laura Gomez Aurioles (Mexico), Olesia Sorokina (Russia), Milan Kuzmanovic (Serbia), Ekaterina Novozhilova (Russia), and Biljana Radonjic (Montenegro).
Social Service:
Brett Payton (United States), Noah Andrea Namwamba (Kenya), Bernice Ewurabena Asaah (Ghana), Arina Yakupova (Russia), Fardin Ayar (Afganistan) and Mei Xin Tee (Malaysia).