SMC PhD Student Noah Namwamba Presented at 2022 World Youth Development Forum
阅读:1086 发布于:2022-07-31 18:17
The World Youth Development Forum brought together youth delegates from more than 100 countries across the globe to discuss global development issues and advocate for actions towards youth development. The event happened after President Xi Jinping made an official announcement during the High-level Dialogue on Global Development on June 24, 2022 highlighting that China will hold the World Youth Development Forum (WYDF) and jointly initiate the Action Plan for Global Youth Development, geared towards the implementation of the 2030 Agenda for Sustainable Development.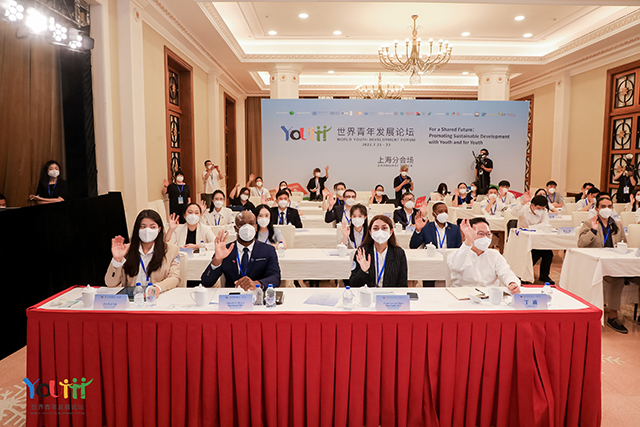 Hosted by the All-China Youth Federation and other affiliated partners, the opening ceremony of the World Youth Development Forum hybrid event was inaugurated on July 21, 2022 at 2 p.m. Beijing time. Running for three consecutive days, the flagship event held 4 thematic forums including : Employment and Entrepreneurship, Inclusive and Equitable Quality Education, Climate Change & Green Development and Digital Economy.
Various global leaders made their remarks during the opening ceremony of the WYDF. President Xi Jinping sent a congratulatory letter to the forum. He underscored that youth represent hope and are the architects of the future. In the letter, he mentioned that China always considers youth as the driving force of social development, and thus encourages them to unleash their youthful vitality when participating in and promoting the building of a community with a shared future for humanity. He also expressed his hope that the forum will become a vital platform where young people globally can be contributors to global development and global efforts are made to foster youth development. He also remarked that young people should advocate for peace, development, equity, justice, democracy and freedom, which are common values of humanity.
António Manuel de Oliveira Guterres, Secretary-General of the United Nations sent a video message. In his remarks he said that the WYDF is a critical opportunity to bring young people together to shape solutions to some of the most pressing global issues of the day. He also urged leaders globally to urgently support youth inclusion and engagement across all aspects of political, economic and social life.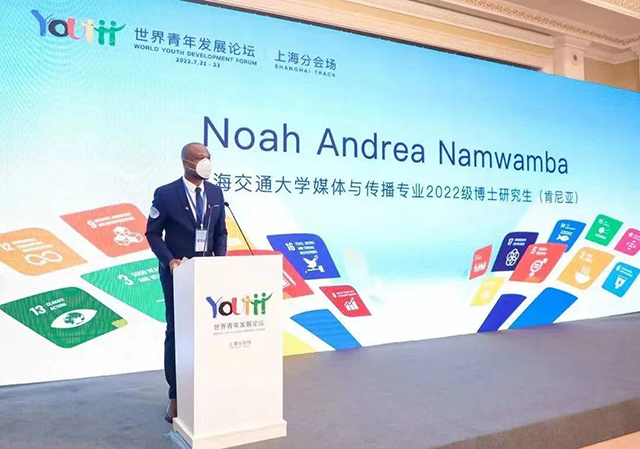 Noah Namwamba from the School of Media and Communication in Shanghai Jiao Tong University was also invited to attend and deliver a speech at this year's World Youth Development Forum. At the forum, he said that during his stay in China, what moved him the most was the deep friendship beyond borders. "At Shanghai Jiao Tong University, I have studied and developed with my teachers and classmates, from poetry to philosophies of life. Apart from the academic exposure, I have been privileged to travel to more than 10 cities including Jiangxi for weddings even Shanxi where I tasted their unique cuisine." He mentioned that a bridge of friendship is built through strategic communication and social exchanges. Noah believes that it is communication and strategic exchanges that spark enthusiasm for social participation. Using an ancient Chinese poem,"纸上得来终觉浅,绝知此事要躬行" which means that practice brings out true knowledge, he quoted that, "On the road to promoting the development of the world's youth, it is only through action, and only through participation, that we can truly move together towards the future." Noah enthusiastically said that the WYDF has three major outcomes. Noah mentioned, "First, the forum has created a key communication and social exchange global platform for youth globally. In addition, it has contributed towards fostering global partnerships and promoting global peace." Lastly, he believes that the forum has also developed a strategic friendship bridge for young people globally. He concluded that these three aspects make our world more beautiful.