2016 Int'l Forum on New Media Jointly Held by SMD and the ICA
阅读:12142 发布于:2016-10-20 14:43
On October 15th , the "2016 Int'l Forum on New Media " with the theme of "Future Media: Opportunities and Challenges" commenced in the 500-square meter studio in the School of Media and Design, SJTU in Shanghai, attracting more than 200 guests from home and abroad to engage in comprehensive discussions around state-of-the-art topics of international new media.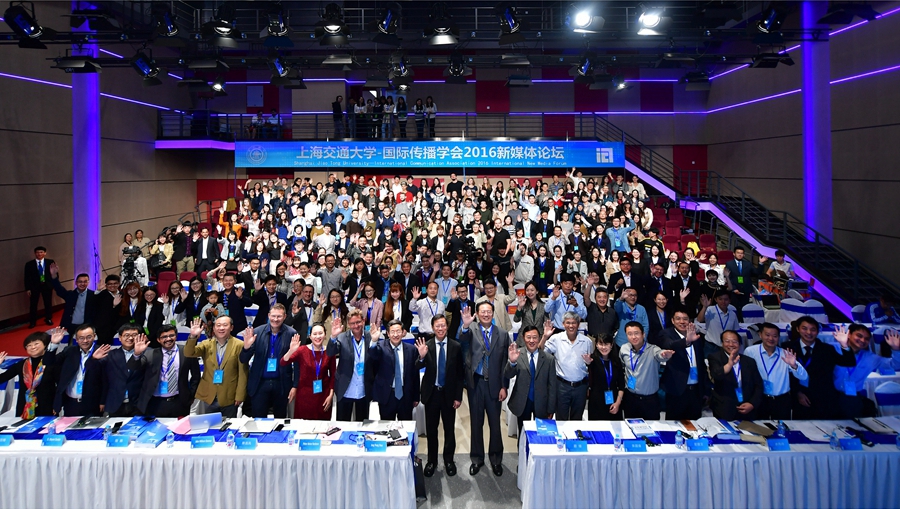 The IFNM forum was jointly held by the School of Media and Design of Shanghai Jiao Tong University and the ICA (International Communication Association), the fourth consecutive year that the two joined force to organize an international forum for new media. The two counterparts used their combined strength to build a platform for world leading academic achievements to be introduced and for China's own advanced research to shine on the global arena.
The forum welcomed preeminent scholars from countries including the United States, the United Kingdom, Germany and Singapore, heads of national colleges of journalism and media, editor in chief of SSCI journal on communication, as well as media representatives from People's Daily, CCTV and Baidu. Scholars from 57 universities and research centers also graced presence to the forum. The forum was co-organized by Tsinghua School of Journalism and Communication, School of Journalism and Communication of Peking University, School of Journalism of Fudan University, School of Journalism of Renmin University of China, and Mobile Internet and Social Media Research Center of the Communication University of China.
The opening ceremony was chaired by Li Benqian, Dean of the SMD. Gu Feng, member of the Party Standing Committee of SJTU and head of organization department delivered a welcoming speech. Professor ANG PengHwa, president of the ICA, Peter Anton Vorderer, vice president of the ICA and "Yangtze River Scholar" of the Education Department of SJTU as well as Chen Changfeng, Vice Dean of Tsinghua School of Journalism and Communication and president of China Journalism History Society all addressed the opening ceremony.
This forum selected more than 80 papers among the hundreds of submissions from all over China. Around the conference theme, there are in total 17 sub-forums featuring: "Communication Economy of the Big Data Era", "Transformation of Traditional Media", "Communication System in New Media Environment", "Journalism Education in New Media Environment", "New Media Use and Effects", "New Media &Creative Industry", "Future Media and the Evolution of Social Media", "Application and Interpretation of New Media Technology" and more, including "Journal Forum: communication of journal paper publishing in Chinese and English " and "Dean Forum: Status Quo and Future of New Media Education".
Topics of this forum reflected the current achievements in media field with a vision on future technological development. Scholars managed to broaden the limit of new media research through multi-dimensional analysis on the industry, technology and users. The research topics showed attendees' concept of media convergence by combining new media technology with traditional media. Meanwhile, the research methods reflected the data-oriented trend in new media research that entails both logical thinking and quantitative empirical study.
The School of Media and Design has been developing vigorously since its founding 14 years ago, with major breakthroughs in the number of major research topics in Journalism and Communication of National Social Sciences Foundation, the number of scholars on the "most cited researchers" list, and the number of accepted professional proposals by ministries under the CPC Central Committee. The Media and Design discipline was also listed on the QS top 100 Disciplines ranking both in 2012 and 2014, with overseas students almost equal mainland students in number and steady growth in global reputation and globalization. Graduates from SMD are strong contenders in journalism and high tech industries. In the 2016 Hollywood International Independent Documentary Film Festival, an SMD alumnus Chen Yingqian was awarded both the prize of "the best student documentary" and "the best cultural documentary".