SMC International Students Celebrate China's 70th With Calligraphy
阅读:3328 发布于:2019-09-30 16:57
On the afternoon of September 29, international students of School of Media and Communication, along with 100 or so spectators, gathered on the waterfront along Huangpu River in the Pudong New Area to celebrate the 70th anniversary of the founding of the People's Republic of China. But the table wasn't set with candles or a cake—rather, calligraphy brushes and bowls of black ink. The international students were joined by Associate Professor of SMC and award-winning calligrapher Xu Qinghua , who guided them as they showcased their newly honed calligraphy skills.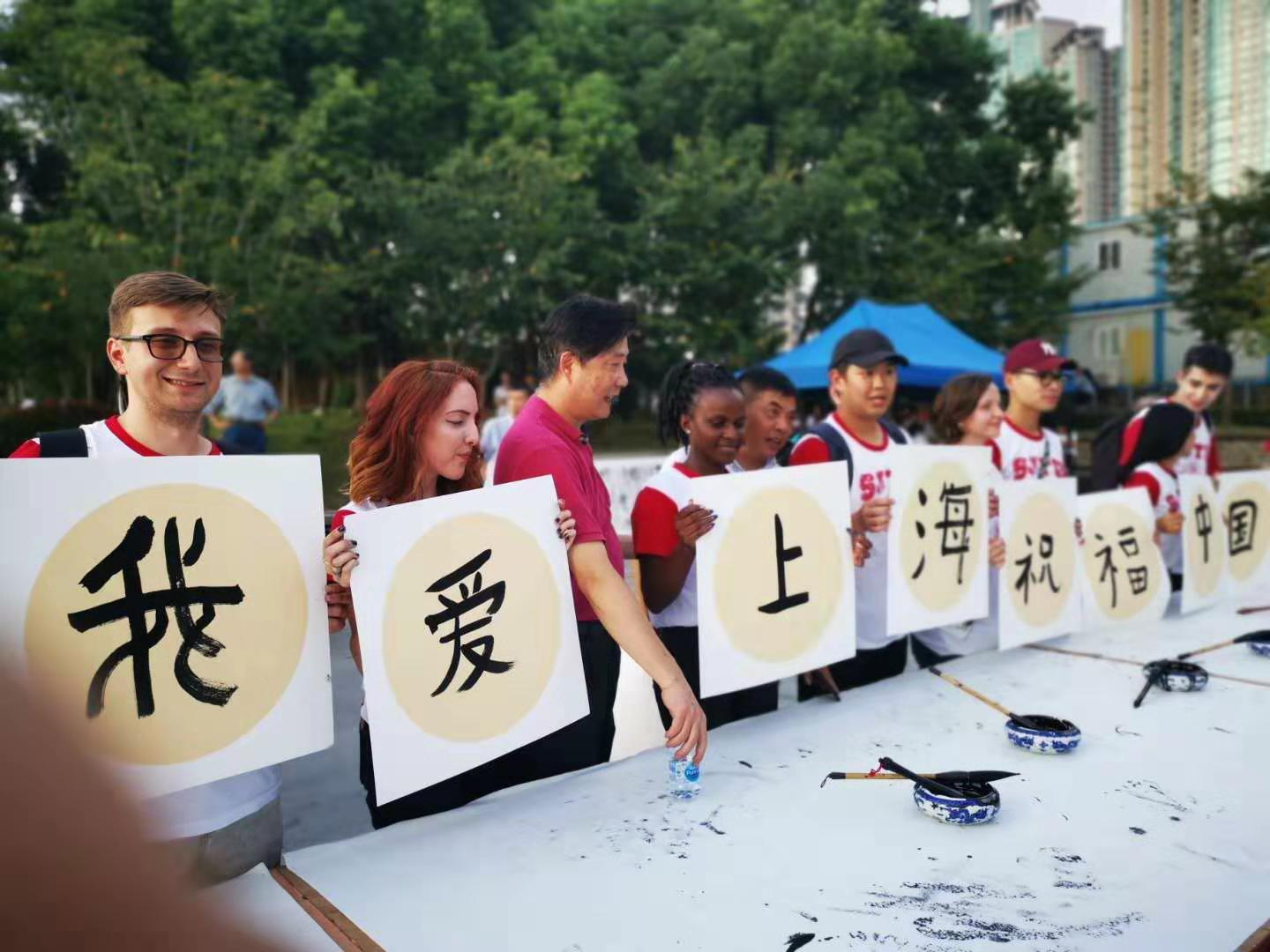 SMC students show their calligraphy work
(The characters together read: I love Shanghai and best wishes to China)
"Now I understand why Chinese calligraphy is an art," New Media Master's Student Emilia Ramirez said. "I see it in a different way," she added.
Ramirez, 27, hails from Quito, Ecuador, and says she felt honored to be part of the event.
"It was completely new for me because I have never participated in something like this before," she said.
For most of the students, including Ramirez, this was only their second or third time picking up the calligraphy brush. New Media Master's Student Oleksandr Khoroshunov also participated in the event, and says it helped him gain cultural and historical understanding.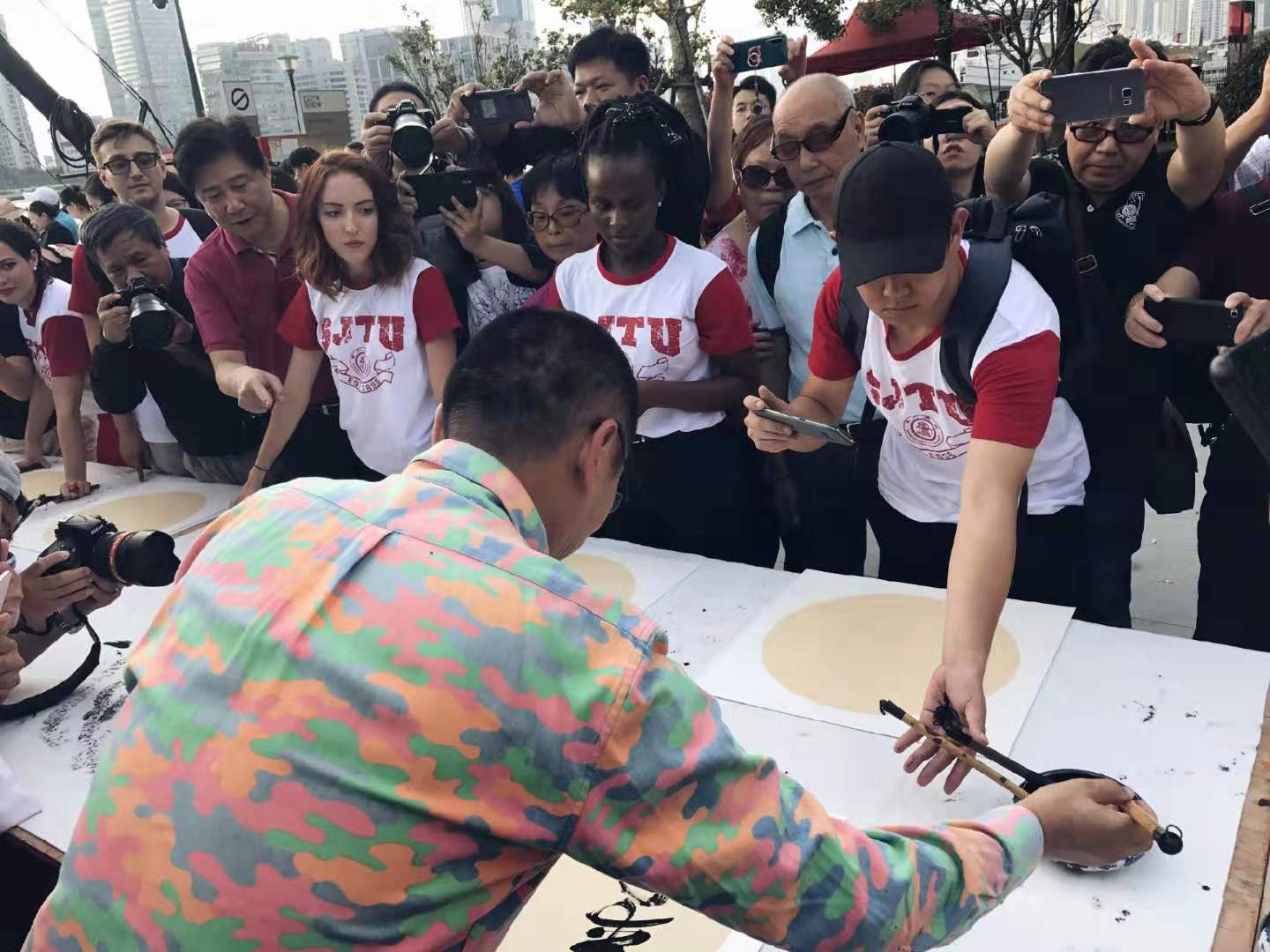 Students select their brushes as they prep for the calligraphy event
"I think it's quite important for international students, especially for those like me who are coming to China for the first time," the 23-year-old from Kirovograd, Ukraine, said.
Khoroshunov's favorite part was watching Professor Xu give spectators a live demonstration of his writing skills while Xie Jingxian mellifluously performed a piece on the grand piano.
"It looked like a dance with all of his moves," he said. "It was something that really impressed me."
Xu, who is also the president of the Shanghai Youth Calligraphers Association, created his work on a piece of paper that spanned 30 meters long and 10 meters wide.
He was inspired specifically by Chinese Calligrapher and Poet Su Shi, who created a piece titled, "Remembering Chibi, to the tune of Nian Nu Jiao."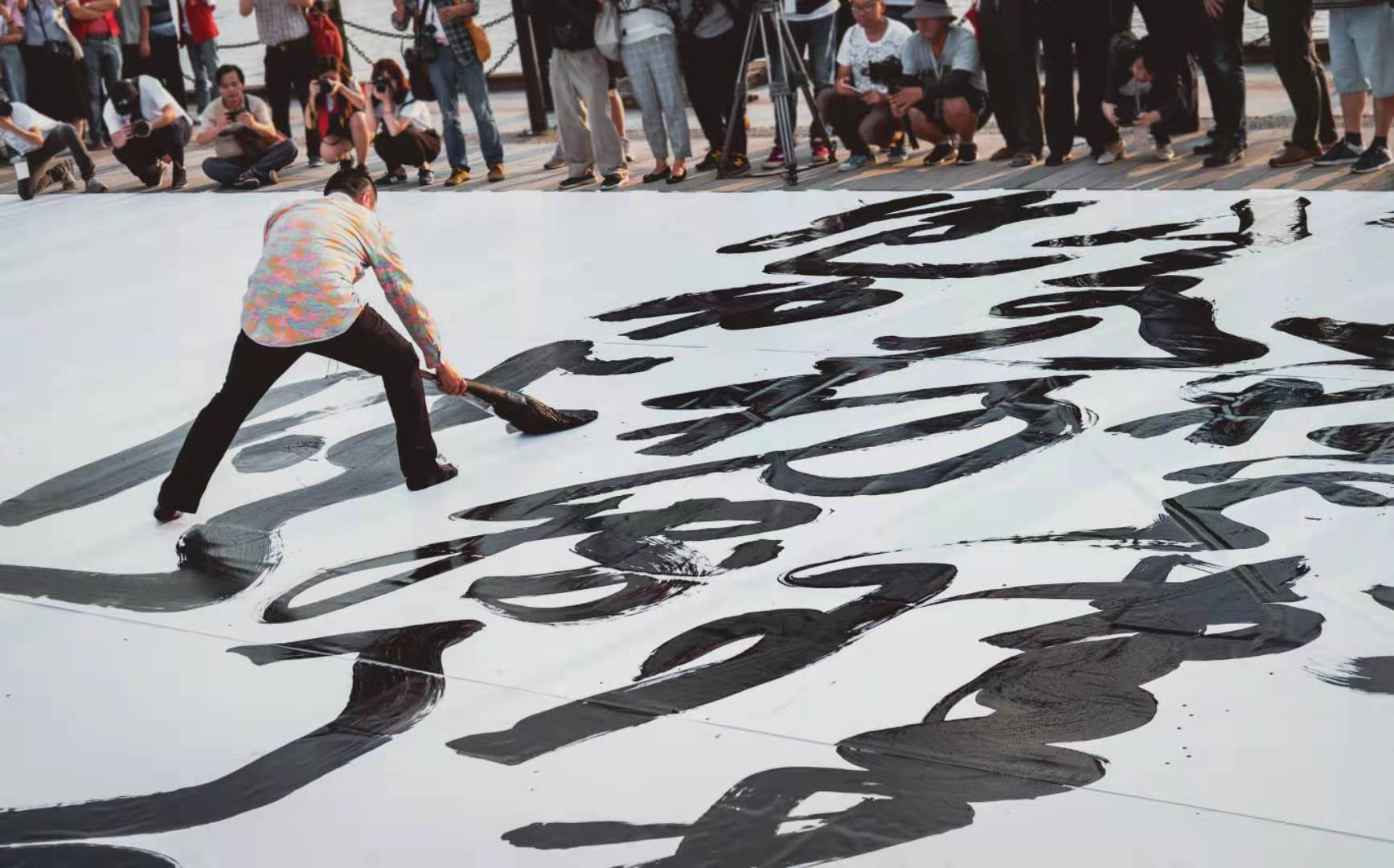 Professor Xu moves swiftly but smoothly as he produces a large-scale piece of art
It's events like these that allow student to "dip into the Chinese culture," Khoroshunov says.
"The language reflects the culture, and influences it," he said. "That's why it is so important to feel (the art of calligraphy)--and to explore."
For those who wish to sign up for future workshops or classes, Ramirez says a certain level of persistence is needed.
"You need to practice, and you need to be patient," she said. "But with time, you will develop. If you like it, you can get it."
(Written by Amanda Florian. Edited by Lutong Zhang)